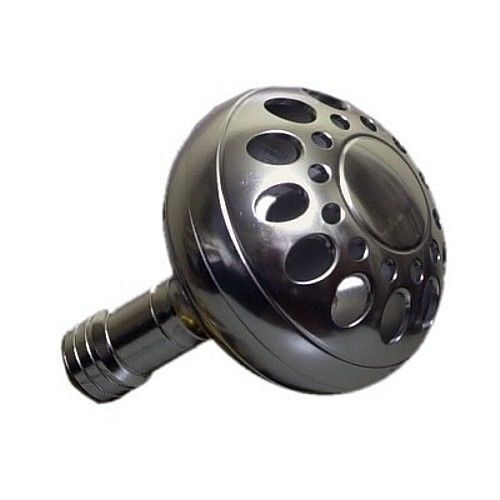 47mm Silver Power Knob w/ BALL BEARING FITS MOST POPULAR REEL HANDLES
---
New Light Weight Round Aluminum SILVER Power Knob For Most Conventional & Spinning Reels.
Now Includes a Ball Bearing!!  
Handle Blank is NOT Included.
Complete Handles (Knob & Handle Blank) are also Available in my Auctions & in my eBay Store. 
You are bidding for ONE new round Aluminum Power Knob. This hollow aluminum knob is extremely light weight and incredibly comfortable.  The knob is available in SILVER.  The knob measure 1.85" (47mm) in diameter.
Please keep in mind that the Power Knob must be attached to your existing reel handle.  A handle blank is NOT included in this purchase.  However, if you prefer to purchase a complete Power Handle assembly, I have handle blanks for many of the most popular reels.  I am offering these complete handles on eBay.
Attaching the Knob to the Handle Blank

To attach the Power Knob to your existing reel handle, you must first drill out the knob rivet on your original handle.  A "B" drill bit (.238") is then used to enlarge the hole to accept the 6mm (.236") knob pin. The Power Knob is then easily attached to the original handle with the supplied screw. Blue Loctite 242 should be used to secure the screw in the pin.
Then remove the Philips head screw from the bottom of the knob.  Keep the large washer on the internal knob pin as the washer is positioned between the knob and the handle blank; not between the knob and the Philips head screw.

 To attach the knob to the handle blank, you must unscrew the two halves of the knob.  Place a normal screw driver into the bottom half of the knob and use the screw driver to push the internal pin past the bottom of the knob.
Attach the Philips head screw thru the handle blank into the knob.   With the normal screw driver inserted into the top of the pin to prevent rotation, tighten the Philips head screw.
Mounting Screws May Be LEFT HANDED!

If Needed, Installation Notes Available Upon Request

Sales Tax: CA Residents Pay Sales Tax.

---
Share this Product